Six days on the Hawkesbury River, New South Wales
Have you ever thought about a boating trip on the Hawkesbury River in NSW?    Maybe you've considered hiring a houseboat or camping on your own boat?   Perhaps you're lucky enough to have just bought a boat (and if you are really lucky, a mooring) on Pittwater or Sydney Harbour and want to go exploring?   Well we took some time off to do a recce on the river to get some ideas about what you can do.   Here is our Hawkesbury River itinerary…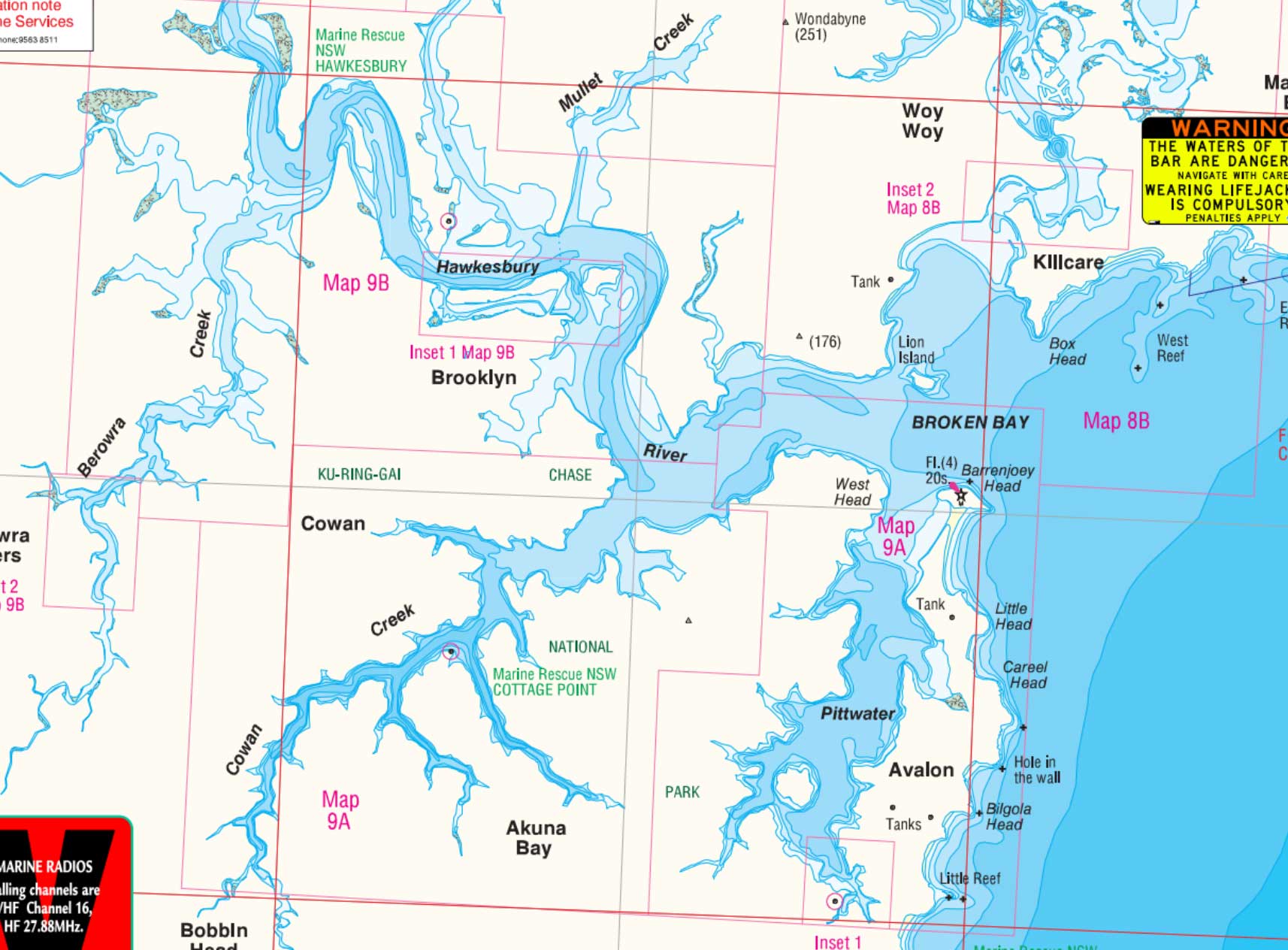 The first thing you need to know is that the Hawkesbury River is navigable for over 100 kilometres and has a staggering 1100 kilometres of foreshore fringe!   You could cruise and explore these waters for weeks and still not see it all.   The river region includes several major tributaries such as Cowan Creek, Coal and Candle Creek, Smiths Creek and Berowra Creek and much of is surrounded by national parks which makes it truly remarkable considering it is only forty kilometres or so from Australia's largest city, Sydney.
You can actually cruise your boat along the Hawkesbury River from the Pacific Ocean at Broken Bay to Windsor which is approximately 120 km inland!   As usual when you take your boat somewhere new, you have a limited amount of available time (unless you are lucky enough to be retired or have won lotto).  You want to make the most of it but where do you go?   There is definitely too much of the Hawkesbury region to see all at once.
Without doubt, the best advice we could give you is to go and buy a little book titled 'Cruising Guide Hawkesbury River, Cowan, Broken Bay and Pittwater' written by John and Jocelyn Powell.   This is a very detailed guide and provides comprehensive information about the Hawkesbury region including important navigation info and interesting historical pieces.   For the price of $30 it is a bargain.
Day 1
The two most popular places to commence your Hawkesbury River experience are the Pittwater or the small town of Brooklyn.   The Pittwater is a stretch of water that, like the Hawkesbury River, opens into Broken Bay and the open ocean.   (See map)   The problem with accessing the Hawkesbury River from the Pittwater is that there is a stretch of open water that needs to be negotiated and this can be dangerous at times with wind, swell and tides making the water very rough.
We decided to base ourselves at Brooklyn which seems to be the centre of a lot of the houseboat trade on the Hawkesbury River.  Brooklyn is about 58 km from the Sydney CBD and can be easily accessed via the M1 Motorway.   It is a small village spread out along about two and a half km of the river's edge.   There is a very good boat ramp in Brooklyn known as the Parsley Bay Boat Ramp.   This ramp is three lane and well protected by breakwaters.   It also has a large car park and good facilities such as water, toilets, fish cleaning table, etc.    (refer to the Parsely Bay boat ramp report in the 'Boat Ramps' page of this website).
Parsley Bay Boat Ramp
We didn't launch until mid afternoon, so didn't have a lot of time to explore.   The priority was to find a nice anchorage for the night as the wind was going to pick up overnight.   We motored around into the Sandbrook Inlet on which the town of Brooklyn sits.   This is a very sheltered inlet which is about 2 km long and 200 metres wide. Brooklyn lies to the south and Long Island to the North and due to the fact that the inlet is blocked at its eastern end by a breakwater which has a rail line on it, the inlet is well protected from wind driven chop from all directions.
It is however just about chock a block with moorings and the shore is full of commercial operators offering houseboat charters leaving little room for anchoring.   Ultimately we decided to 'borrow' an empty mooring for the night, intending to leave early in the morning thinking it would be easy to leave if asked.   If you want to tie your boat up to a jetty here and walk to an onshore restaurant, forget it, there is no such thing at this location although if you had a boat with a tender, you could leave it on shore and take a short walk into the small village of Brooklyn which has several eating options.
So for us, night one was spent in calm water, watching a magnificent sunset colour the sky and boats around us in a stunning light pink colour.
Day 2
Bright blue skies greeted us the next morning as we left Sandbrook Inlet and motored over to the Brooklyn Marina which is at the foot of town, hoping to find a visitor's berth so we could go exploring.   No such luck at the Marina which had a couple of temporary berths which were both occupied.   There is a little public jetty in the Marina area but several ferries and water taxis regularly use it so you can't leave your boat there especially unattended.
We found an empty pontoon on the eastern end of the Brooklyn baths at this location and this was only a short walk into the lovely little town of Brooklyn which has several cafes, two restaurants (one being at the Marina), a general store (also at the Marina) and a Hotel.   This pontoon is small and a regular spot for fisherman, so the chances of finding it empty are pretty small.
If you wanted to explore Brooklyn, my advice would be to take your boat into the Parsley Bay boat ramp area where you can tie up against one of the two small pontoons within the breakwater.   Beware though, that one of these is also regularly used by the local water taxis.   It is about a five minute walk into Brooklyn from this location. It is unfortunate that there are virtually no public berthing facilities here as it is a nice little place to visit. 
After speaking to a local about the best places to cruise to, we headed east and into Cowan Creek, then Jerusalem Bay where we found a free mooring to hang off in a quiet little bay  called Pinta Bay.   This was our first exposure to the true beauty and serenity of the Hawkesbury river system which is basically a drowned valley full of spectacular sandstone cliffs and gorges, extensive waterways, secluded bays and national park.   Our little anchorage this night, was once again, well protected and there were only two other boats present.
Now a word about moorings in the Hawkesbury River.   There are numerous fixed moorings dotted throughout the river system and they are of many colours.   If you find a pink one, it will be a courtesy mooring and anyone can tie up to it for the night so it is a case of first in first dressed.   All of the other mooring bouys you will see actually belong to private individuals, boat clubs or commercial operators.   Now if you are a newbie and used to following rules, you will not tie up to these moorings thinking that it would be the wrong thing to do.   WRONG!   It is generally accepted etiquette that you can tie up to a private mooring as long as the owner is not using it.   If the owner comes along, obviously you would be polite and move on.
This etiquette even applies to the western side of the Pittwater where many fixed moorings are situated beside the Kuring Gai Chase National Park.   Most of these moorings are owned by Boat Clubs.   NOTE, however, this rule does not apply to the eastern side of the Pittwater or in fact most if not all other waterways in NSW.
Day 3
After a very peaceful night's sleep we set off on a mission to find a hotel/café where we could watch the AFL Grand Final;  Richmond V Adelaide.   We first tried Cot